Cabin Living
at its finest
/my_files/client_provided_files/slides/WPG_125026_585300691516b293898263.jpg
/my_files/client_provided_files/slides/WPG_125026_58530074a2258990921271.jpg
/my_files/client_provided_files/slides/WPG_125026_5853007b8d112344434305.jpg
Get in Touch with us Today!

1993-2016
In 1993, my family moved to Panguitch Lake from Phoenix, to start a lodging facility known as the Blue Springs Lodge. The local real estate company, Stagecoach Realty, from whom we bought our land, invited me to become an agent, almost immediately after we moved here. It was a perfect set-up, right on Highway 143, with hundreds of potential customers driving by daily in the summertime. I was thrilled, to say the least!!

ERA Brokers Consolidated, (with a commitment to stay, from myself and the broker), bought Stagecoach in 1996, and I became the Broker at the Panguitch Lake Branch office. I worked extremely hard during the next 11 years, taking my profession serious, by taking advantage of every learning opportunity which presented itself. I rose in the ranks of all ERA Agents, reaching the Top 50 in sales, nationally, in 2005 and 2006. I was working hard in 2007 to stay at the top, when, on August 3, 2007, our lives changed forever......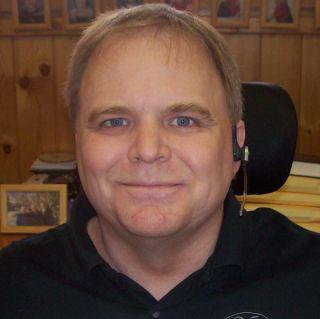 On that evening, as I was checking a family into our Lodge, their 24 year old son, who had driven up with his girlfriend, ran into our small office screaming, "I'm GOD and you're dead!" as he shot me three times in the back at point-blank range. Long story short, I was paralyzed from my armpits down, my nerves in my right arm were destroyed by a bullet that went on an angle through my brachial plexus, the third bullet striking a rib and puncturing my lung. I nearly bled to death that night and spent 2 pain-filled months in the hospital, before they sent me home.
Fast forward ahead, to July 22, 2010, when I receive an e-mail from ERA Brokers Consolidated, that they were closing the offices in Panguitch and at the Lake. Up to this time, as a near quadriplegic, I had attempted to hang on to a business I had worked hard for 14 years to build, by having my oldest son, Austen, who knew the Lodge and Real Estate business as good as anyone I could have hired, obtain his license, be my partner, and in a way, my "legs". Extremely sentimental, I begged ERA for the rights to the Stagecoach Realty name. They granted my wish.
As Austen and I have entered our 7th year as "Stagecoach Realty", we are back at the top. I handle most of the calls, e-mails and contracts from my home office, and I want you to know that I continue to work, as hard as I once did, and I feel we have a great set-up, that allows us to service all potential Buyers, while they are in the area, and not let them leave our beautiful part of Southern Utah without answers to their real estate inquiries. No one knows the real estate history of Garfield County better than we do. We love living here and sharing it with you, too!!
I'm proud of the fact that I spend a great deal on money to advertise in every medium possible, while many Agents and Brokerages are happy with just putting up a "For Sale" sign. Cell phone calls that were missed when we were up on the mountain, are now answered immediately, or returned as soon as possible. E-mails are answered quickly, so that we can give our Buyers and Sellers the kind of attention to service and detail they have the right to expect. We want our Clients to know that good, old fashioned hard work is alive and well at Stagecoach Realty!! Experience, integrity, and a great love for Southern Utah are our themes!! Come be a part of the Stagecoach Real Estate Experience. You'll be glad you did!!